What is Meals on Wheels?
Hot, nutritious meals are served five days a week in communities throughout western South Dakota. Participants may enjoy a meal with their friends and neighbors at our congregational dining sites, or recieve a home-delivered meal in one of 64 communities located in western South Dakota. 

Meals on Wheels Western South Dakota is non-profit organization whose purpose is to promote the well-being of older adults through nutritious meals, nutrition education, socialization and other supportive services. The program is supported through the Federal Older Americans Act, participant donations, the State of South Dakota and local fundraising efforts. Every philanthropic dollar stays right here in our community, serving those who need it most!

Do I Qualify?
Anyone 60 years of age or older is welcome to participate. If the spouse of an eligible participant is under 60, he or she may qualify as well. We encourage anyone who is 60+ to join us at one of our many communal dining locations and for those who are homebound or unable to travel, home delivery is available. If someone you know is homebound and in need of meals, please reach out on their behalf or give them our information.

Why Should I Participate?
Affordable, delicious meals offering a variety of food
An opportunity to meet others in a group dining atmosphere
Social contact for those who are homebound
Daily fellowship for an active and healthy lifestyle
An opportunity to help others by assisting with the program
As we age, we tend to need fewer calories - but not fewer nutrients. It is essential that we make wise food choices and eat nutritionally balanced meals every day.
Good nutrition can help keep us healthier and out of hospitals and nursing homes.
Well-nourished seniors generally have shorter hospital stays, lower health care costs, faster healing, fewer health complications and lower mortality rates.
Good nutritional habits are also instrumental to recovery when illness or injury affects our health.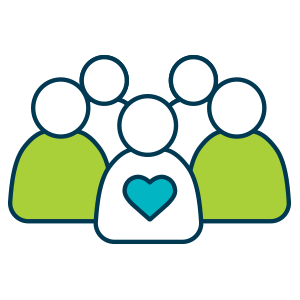 What Will I Receive?
While the menu is different each day, we do follow specific menu guidelines that are diabetic friendly and heart healthy. Each meal provides one-third of the Recommended Daily Allowance, which is one serving of protein, three servings of vegetables or fruit, one serving of bread, and milk. Modified texture diets are available for persons with chewing or swallowing problems and certain dietary restrictions can be accommodated.
What Does it Cost?
Meals are available on a donation basis according to suggested income guidelines. Those under 60 are asked to pay the full cost of the meal, at $8.25.

Food stamps and EBT cards are accepted. No eligible participant will be denied a meal based on inability to pay.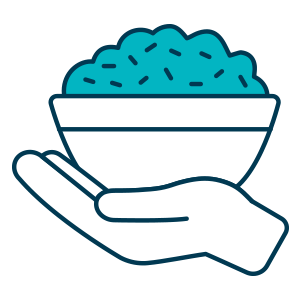 I live in western South Dakota and I'm interested in receiving meals: